35' Custom Carolina Express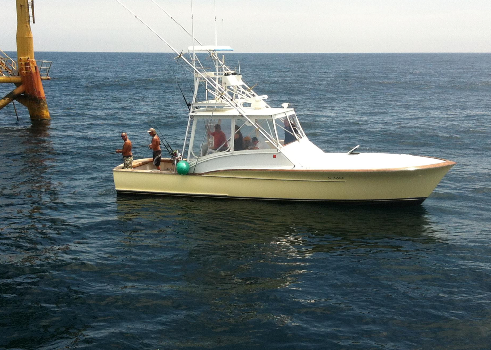 Our inshore charters can carry a maximum of 6 people. If you don't have 6 in your party, don't worry! We can match you up with another group to reduce your costs. Inshore means inside the continental shelf, so you can go out in the ocean, but not more than 16 miles out. You may also find yourself around the inlet, or in the sounds. It always depends on the weather conditions, but more importantly, where the fish are on any given day. Targeted species include amberjack, cobia, spadefish, triggerfish, Spanish mackerel, king mackerel, bluefish, striped bass, redfish, speckled & grey trout, black drum, flounder, and numerous others. For bigger, more aggressive game fish such as amberjack, cobia, jack crevelle, and shark fishing, it is suggested that you take a 3/4 day trip. Half day trips simply don't allow for enough time to go a little further out in search of these larger fish. On this vessel, there are restrooms, shelter from the sun, and a mate to handle all the rigging and baiting.


1/2 Day Trips are 4 hours and leave at 6am, 10:30am, and 3pm.
3/4 Day Trips are 6 hours and leave at 6am and 12:30pm.
Full Day Trips are 8 hours and leave at 6am.
6 PEOPLE MAXIMUM
1/2 DAY TRIPS: $750
3/4 DAY TRIPS: $1300
FULL DAY TRIPS: $1800
All you need to bring is food and drinks. As long as the fish you catch are legal, they are yours to keep or release.
**Please Note: All prices shown are the discounted cash price. Please inquire for credit card prices. Thank you, Outer Banks Charter Fishing and Corolla Bait and Tackle.